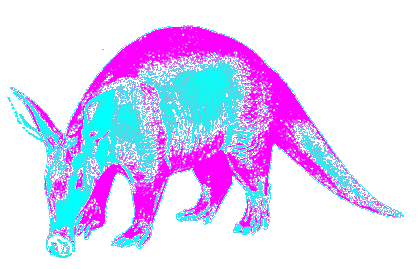 No Aardvarks were harmed in
the preparation of this Website
EVENTS AT THE NATIONAL THEOSOPHY CENTRE
Please click here for Current Theosophical Events in Cardiff
The Horizontal Laidback Guide
to Impersonating a Theosophist
Being a Theosophist can bring excellent
Spiritual and Karmic benefits
Impersonating a Theosophist will
do you absolutely no good at all.
 So why not try it
 Here's how
For a start, impersonating a Theosophist is much easier to do if you never meet any Theosophists. You can just pick up a few ideas from the internet and try to impress civilians at parties and bus stops. You won't pull at the parties but you should get a seat on the bus to yourself.
The purpose of this Website site is however to enable you to hold your own as a credible Theosophist at such events as a Theosophical Gathering, Disco, Singles Holiday or Darts Match.
Be warned that some people who start out impersonating Theosophists actually become Theosophists and this is irreversible.
Don't know anything about Theosophy?
If you don't know anything about Theosophy, you'll find that this site builds you up to it gradually and there is some real Theosophy further down the page (A lot further down the page)
If you're in a hurry to know something about Theosophy and don't want to wait that long then click here to go to
Cultural Affectations and Small Talk
It is quite possible to be a Theosophist without any social skills whatsoever,
so you can skip this bit and go on to the bit about
The Background to Theosophy and the Movement
but if you do that you'll miss the bit about Elvis
Talking about your diet
(This is the "what you eat" diet
not the "starving yourself to death" diet)
You don't actually need to talk about anything but if you do, you will find that so much, in fact nearly everything, is negotiable.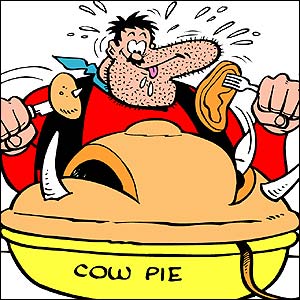 Desperate Dan's Legendary Diet is unchanged since 1938
but he could still become a Theosophist if he agrees with the
Three Objects of the Society (Listed farther down the page)
Theosophy doesn't require you to be a vegetarian or even to have any opinion on the subject at all but it does help to say that you think vegetarianism is a good idea even if you can't manage it yourself.
There's no need to adopt Dietary Fascism i.e. Supporters of the Health Nazi; Sir Oswald Muesli – Sieg Health! Sieg Health! They don't live any longer, it just seems like it.
Actually, what we call Healthy Eating only goes back about 30 years and some experts are now saying that there are Healthy Eating related diseases. You just can't win.
If you aren't a vegetarian you can just say;
"I think I'm just not destined to be a vegetarian in this life"
"I was vegetarian for two years but it didn't agree with me"
Nothing
Or

Why not become Vegetarian. There's never been a better time.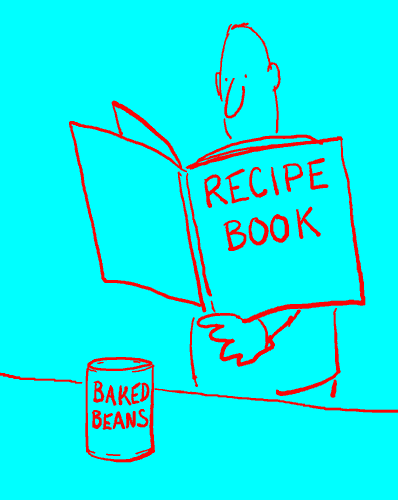 Of course, apart from psychic Theosophists, nobody will know if you go straight home and eat steak pudding and chips twice anyway.
On a more serious note, traditional Theosophists maintain that we should not eat our fellow creatures.
Vegetarianism in the Light of Theosophy by Annie Besant
Provides a detailed account of the Theosophical Rationale for vegetarianism but Annie Besant still leaves the matter to personal choice
Cook an Egg with Your Mobile Phone
Dark Chocolate Can Lower Your Blood Pressure
& Unfortunately, you only need a very small amount
If you are interested in food for healing
What to wear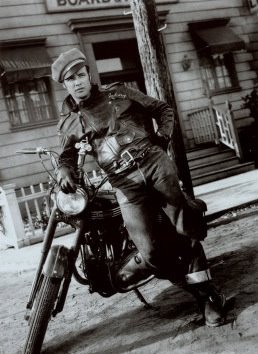 Marlon Brando as Johnny Strabler, leader of the rebellious
biker gang the "Black Rebels" in "The Wild One" 1953
The film (banned in Britain until 1968) is about two biker gangs who cause havoc
in a Californian town and is based on a real event that happened in 1947.
Men – Anything except a power suit or a wide lapelled loud checked sports jacket with a kipper tie unless you are doing a stand up comedy routine at the Christmas party.
A recent straw poll of women Theosophists has revealed that men who dress like Marlon Brando in "The Wild One" are always in demand at Theosophical Discos.
A further poll of the ladies also revealed that if you look like Marlon Brando in "The Wild One", that's even better.
Women – Anything but preferably Black Leather. It is however essential not to look like Camilla Parker Bowles. If you do look like Camilla Parker Bowles you will be complemented on this and you will immediately book a hair appointment.
What to Drive
Here's another 1950s classic that will always impress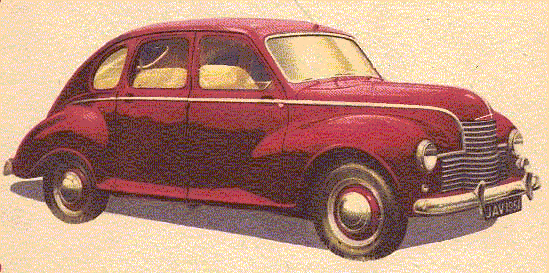 The Jowett Javelin
In production from 1948 to 1954
Top speed of 82.4 mph, acceleration from 0-60 mph in 20.9 seconds.
Fuel consumption of 29.1 miles per gallon
In 1953 one would cost you £1207 including purchase tax
Now considered a Classic Car and in line with the Cyclic Nature of
Evolution on an upward spiral, Chrysler have adopted this styling.
If you don't drive a Jowett Javelin now, then claim that you once did or that your dad drove one. A Phase I or II Standard Vanguard is a good alternative.
(This hasn't anything to do with Theosophy, the author of this website just likes pictures of 1950s cars)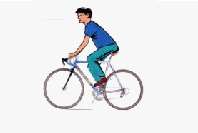 Cycling is cheaper and most Theosophical Groups will have somewhere safe for you to put your bike during the meeting.
Smoking

No Way – but if you are over 80 then you can admit to smoking a pipe – this goes for women as well but women should take more care over the choice of pipe tobacco.
Be in favour of the current smoking ban in pubs even if you haven't been in a pub for 20 years and at the same time grumble about people smoking outside pubs in the street, and the cloud of Lung Cancer that greets you one hundred yards down the road.
Money Saving Tip
Some pubs now have more people outside smoking than inside drinking. Walking the length of your local high street on a Friday or Saturday evening can now be equivalent to smoking 40 Woodbine, which is good value.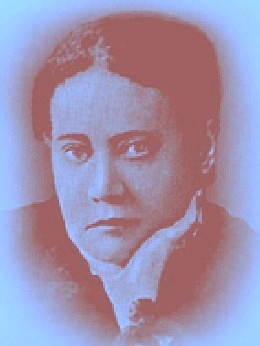 The Founder of Modern Theosophy
H P Blavatsky was a legendary smoker but she was H P Blavatsky and smoking wasn't bad for you in her day. An exaggeration factor may have crept in here but she is reported to have smoked 200 cigarettes a day. She didn't drink alcohol so the smoking in pubs ban wouldn't have affected her.
Beards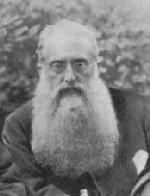 Co- Founder of the Theosophical Society
If you are going to grow a beard then do it properly
Men – There has been a fashion for white ones like Colonel Olcott's but you rarely see one up to his standard. Beards were beards in those days. Colonel Olcott could make a fortune from sponsorship by Grecian 2000 if he came back today.
Women – Optional
Relationships
Theosophy doesn't stop you having these with anyone you want to.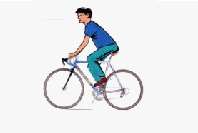 Cycling is cheaper
Finding Money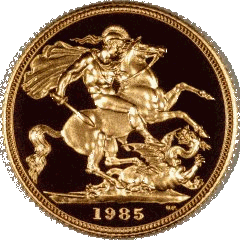 If you see a coin on the pavement you should always pick it up, whatever your financial circumstances.
Theosophical opinion is divided on why you should do this but the two main reasons are;
1) The Universe is giving you free money and if you don't take it, the Universe will assume that you don't need it and won't give you any more.
Or
2) When you find a coin it means that the Angels are watching over you and you should acknowledge this by picking it up.
Dancing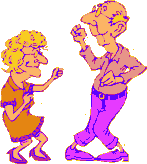 Younger Theosophists boogeying to a
Marilyn Manson Track at the Christmas Party.
(It looks like a punch up)
No Theosophist can dance. If a Theosophist goes on the dance floor, somebody calls an ambulance. If you can dance then make sure that your performance on the dance floor will get you a war pension.
On the other hand Air Guitar Playing is a Theosophical speciality and you should practice this at home. Bill and Ted are heroic figures in the Theosophical Movement.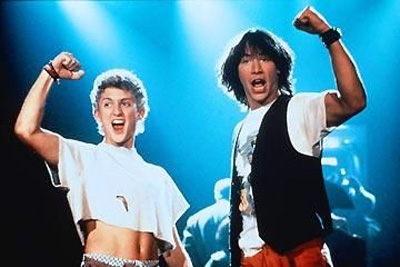 Bill and Ted
(William S. Preston Esq & Ted Theodore Logan)
on their Excellent Adventure
This Science Fiction film produced the two most Triumphant Theosophical Slogans of all time;
Party On Dudes!
Be Excellent to Each Other!
If you don't know what Air Guitar Playing is then you can either watch Bill & Ted's Excellent Adventure or ask an established Theosophist to demonstrate it (preferably to a Metallica album).
Please note that the Theosophical Movement does not discriminate against left handed Air Guitar Players. Most left handers play a right handed Air Guitar turned over with the strings reversed.
Remember, the clock in San Dimas is always running.
A North Wales Rock Chick is studying for
a doctorate on the air guitar.
Elvis Presley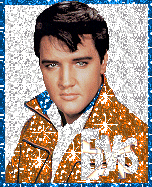 Elvis Presley was interested in Theosophy and you should find out as much as you can about this.
It is reported that several definitive Theosophical texts were included in a personal library that Elvis took on tour.
Music

If you are not interested in Heavy Metal, Rock 'n Roll or Elvis then don't bother with this one.
Appreciation of Heavy Metal requires at least 3 previous incarnations of serious inner work as an absolute basic. You can only impersonate a Heavy Metaller if you were in the First World War in a past life.
In the fields, The Bodies burning
As the War Machine keeps turning
If you are thinking of impersonating a Heavy Metaller be warned that some Rock Clubs play a Status Quo track early in the evening and anyone seen tapping their feet is thrown out.
The Feelgood Theosophy Website is of course named after the Legendary Canvey Island Rhythm 'n Blues Band Dr Feelgood
Football
Not a Theosophical subject but some Theosophists do play or have played Football. Football analogies of Theosophical concepts go down very well even with people who've never been to a Football match.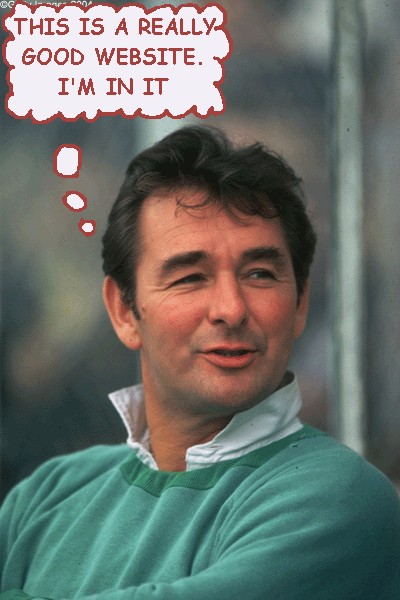 Brian Clough
Modest Football Manager
Created his own Universe and stood
uncompromisingly at the centre of it
Rivelino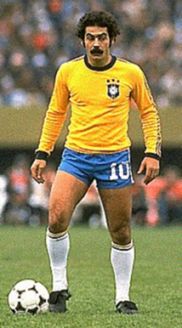 A hero of the 1970 Brazilian World Cup winning side
Theosophy is very popular in Brazil
For our Brazilian readers
Sociedade Teosofica no Brazil
Mr. Ricardo Lindemann
Sociedade Teosofica no Brazil, SGAS Quadra 603,
No. 20, CEP 70200-630 Brasilia (DF), Brazil
e-mail: teosofia@stb.org.br
http://www.sociedadeteosofica.org.br/  
Television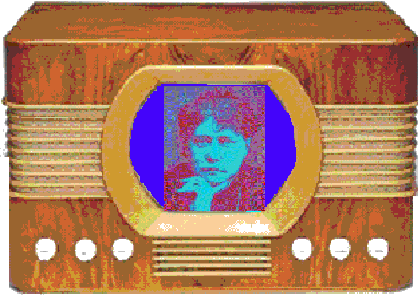 Just think what H P Blavatsky could do if she
came back today and had her own TV show
Awesome
Theosophists watch loads of Television but don't like to admit just how much they watch. Theosophists also tend to be up to speed on the digital revolution so it is always good form to mention the name of an obscure digital channel even if you don't watch it.
If you have a Black & White Television, nobody will believe you including the Television Licensing people.
Did you Know ?
Colour Television was demonstrated at the Earls Court Ideal Home Exhibition in 1949 but it would have been cheaper to go to the moon than buy one and there were no colour programmes on until 1967 anyway.
Is There a Blavatsky Channel? – Not Yet!
Cinema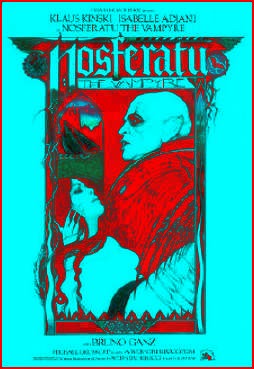 Nosferatu the Vampyre
Directed by Werner Herzog
Klaus Kinski as Count Dracula in Nosferatu, Phantom der Nacht
(The Undead, Phantom of the Night) carrying Isabelle Adjani
A 1979 German re-make of 1922 classic

Theosophists like going to the cinema just as much as they like television and this is a subject they like to talk about. Alternative Cinema is also very popular with Theosophists.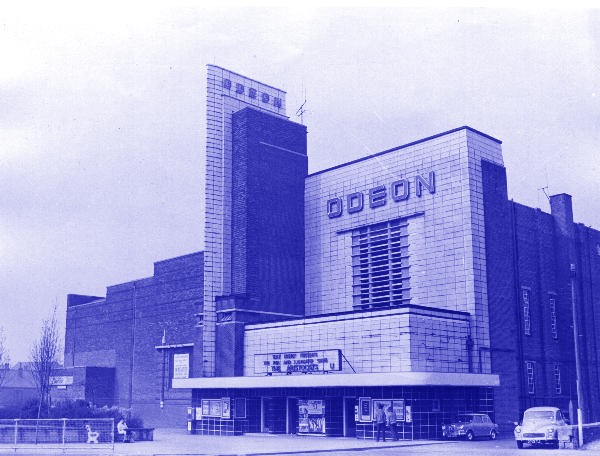 Burnley Odeon - A Design Classic
The cars in the picture are a Riley Elf, parked by the building and a
Morris Minor 1000, parked by the lamp post, which are also design classics.
The film showing is The Aristocats.
Nights Out
Even if they have been clubbing until 4 that morning, Theosophists prefer to claim that they haven't had a night out since 1962.
Karaoke
Similar to the dancing. Make a complete hash of it even if you are good.
If you find a Heavy Metal Karaoke then please tell Theosophists about it as it would be a good opportunity to do a bit of Air Guitar Playing.
Alcohol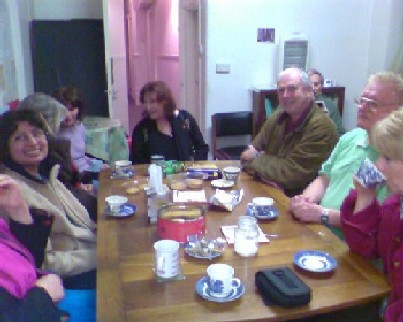 Theosophy doesn't require you to avoid alcohol although the writings of Annie Besant give some dire warnings and no Theosophical gatherings allow it. Theosophists who do drink tend not to do so in the presence of other Theosophists probably because they don't like getting their round in.
People who come to Theosophical meetings and can't say Theosophical are normally drunk.
Change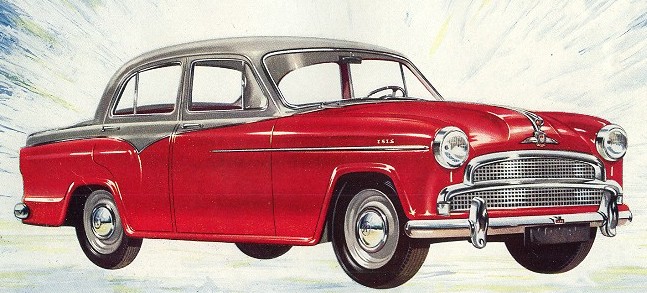 The 1957 Morris Isis
A Great Car for 1957
Repeated manifestation without progress is pointless
Embrace change and welcome it. Keeping everything the same means making a stand against the natural order of things.  Our whole existence is founded on change and Theosophy calls this The Law of Periodicity or Process of Constant Renewal
Past Lives
Mentioning something that happened to you in a past life is always a good conversation topic but keep quiet about it if you were King Arthur.
"Reincarnationist goes into a Pub"
This joke could just possibly be
Opening Chat-Up Lines
Theosophists pride themselves on not having any of these and tend to rely on body posture, luck and Karma. It is surprising how well this works (not).
Paying your utility bills by direct debit gives you an automatic conversation opener but please try not to wear it out.
If you don't pay your utility bills by direct debit, please click here for the UK Shipping Forecast Map
Jokes
The "Reincarnationist goes into a Pub" joke is traditionally never told by Theosophists as it is too long, has a very weak punchline and isn't funny.
As a Theosophist, your life will be made a lot simpler by only needing to remember one joke and this is it;
Question:- What do you call a Scottish tree in the middle of France?
Answer:- macabre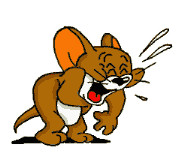 It is always quite safe to tell this joke as nobody has ever been known to have died laughing at it and unlike the "Hitler goes into a pub" joke, you won't damage any furniture.
Illegal Substances
Theosophists don't bother with these and don't need them anyway but have extensive knowledge of the damage they do to our subtle bodies (Those extra ones we can't see).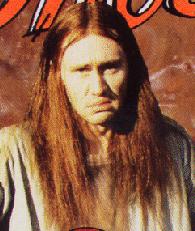 For those of you not old enough to remember, The Young Ones
was a sitcom in the 1980s in which Neil portrayed a sad guy
completely wrecked by the 1960s. The 60s was when George Best
was Prime Minister and Harold Wilson was playing football.
I bet you're glad you're not old enough to remember.
Neil from the Young Ones (Nigel Planer) can be cited as an example of the sort of damage you can do with illegal substances, if you work at it.
1947
If Einstein was right, everything that has happened, is happening now and will happen in the future, all happens at once. Modern science has come up with a neat term for this, calling it the Block Universe.
This idea plus the negotiable nature of the Space-Time Continuum has given us three ways of dealing with 1947.
1) Those who think that the world began in 1947 and everything that claims to pre-date 1947 was put there to fool us and that anyone claiming to have been around before 1947 is part of the conspiracy (This position is quite tenable even if you have the History Channel). It is surprising how many people claim to be part of the conspiracy.
2) Those who think it is still 1947 and cannot understand this website. (They're not the only ones)
3) Those who think that 1947 was just another year and that there have been years since and there will be more years in the future.
Caution – Only decide to think it is still 1947 if you are too old to do National Service.
If you think it is still 1947, why are you on surfing the internet?
To be honest, the author of this website has never met anyone in the first group.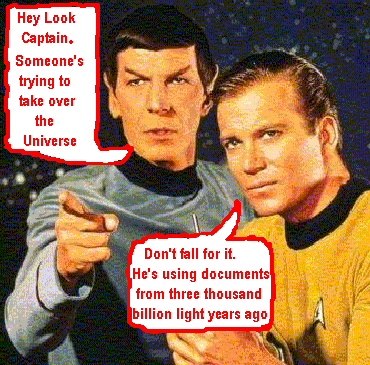 There's a lot of speculation about the nature of
the Space-Time Continuum, but it's still time
and it's still a continuum
Gossip
There is incredible gossip in Theosophical circles but it is always about people who haven't been seen for at least 5 years.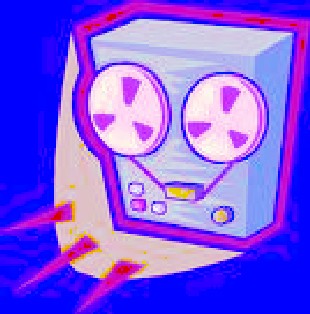 If you want a laugh why not disappear for five years and then turn up in disguise or sneak in before an event and covertly record it. Don't leave it thirty years though, everyone will have forgotten what you did.
The Tape Recorder Saga of 1956
Talks and Lectures
It is better to avoid doing these on Theosophical subjects if you are just impersonating a Theosophist. Of course you may want to give a talk on something else.
Always see how many Clash song titles you can slip into a talk without anyone noticing.
Becoming a Member
The Theosophical Movement consists of many diverse organisations promoting Theosophy. Some comprise of large networks of groups with a central headquarters and some are stand alone independent centres. Anyone can start a Theosophy Group (or even do a Theosophy Website) and you may even be starting your own right now.
Theosophy Cardiff is affiliated to the Theosophical Society which has its International Headquarters in Adyar, India.
Within the British Isles, the Adyar Theosophical Society has Groups in;
Bangor*Basingstoke*Billericay*Birmingham*Blackburn*Bolton*Bournemouth
Bradford*Bristol*Camberley*Cardiff*Chester*Conwy*Coventry*Dundee*Edinburgh
Folkstone*Glasgow*Grimsby*Inverness*Isle of Man*Lancaster*Leeds*Leicester
Letchworth*London*Manchester*Merseyside*Middlesborough*Newcastle upon Tyne
North Devon*Northampton*Northern Ireland*Norwich*Nottingham
Perth*Republic of Ireland*Sidmouth*Southport*Sussex*Swansea*Torbay
Tunbridge Wells*Wallasey*Warrington*Wembley*Winchester*Worthing
The above list would make a good itinerary for a cycling tour, perhaps someone may one day undertake a grand cycling tour of British Theosophy Centres.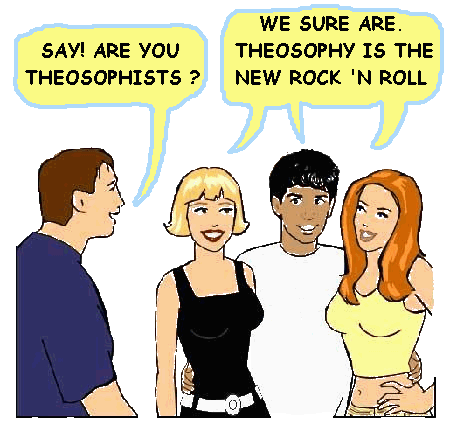 Joining a Theosophy Group is highly recommended
but is a decision to be taken in your own time.
Becoming a card carrying member of a Theosophical Group is a matter of personal choice, should be optional and you should be allowed to make the decision in your own time. If you were ever to find a group that bullies you into becoming a member then it is probably a dodgy outfit but if you are only impersonating a Theosophist that might not bother you.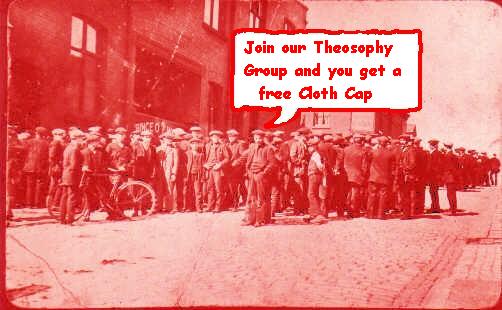 Some Theosophy Groups might offer incentives to join
Some Theosophical Groups have press gangs but this is only in coastal areas and big cities. You can always spot them because they have big nets like the Truant Catcher out of the Beano.
Visit our Scambusters page for a satirical look at some of the things that anyone on the spiritual path should look out for.
This is for anyone on the Spiritual Path
Can you remember the Rise & Fall of 1976 ?
Dedicated membership of any Theosophical Outfit could put your name in neon lights in the Akashic Records. You will have made an imprint in time and your own time will not have been wasted.
Remember;
Time should know you were here
Wales
Irrespective of where they live on the planet, Theosophists are expected to know something about Wales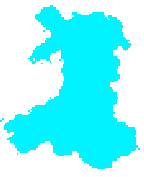 General pages about Wales, Welsh History
and The History of Theosophy in Wales
Wales is a Principality within the United Kingdom
and has an eastern border with England.
The land area is just over 8,000 square miles.
Snowdon in North Wales is the highest mountain at 3,650 feet.
The coastline is almost 750 miles long.
The population of Wales as at the
You can also visit
The Cardiff Theosophical Society Website
&
The National Wales Theosophy Website
Mrs Trellis of North Wales Her letters always get enormous laughs.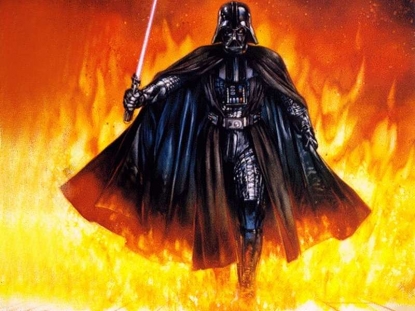 Inter-Galactic Wars have recently spread to the
Island of Anglesey, off the North Wales Coast
Darth Vader and Jedi Knights fight it out in North Wales
Dick Dastardly & Muttley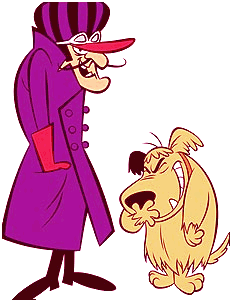 Dick Dastardly & Muttley's contribution to Theosophy is often disputed but Theosophists always like to read about them.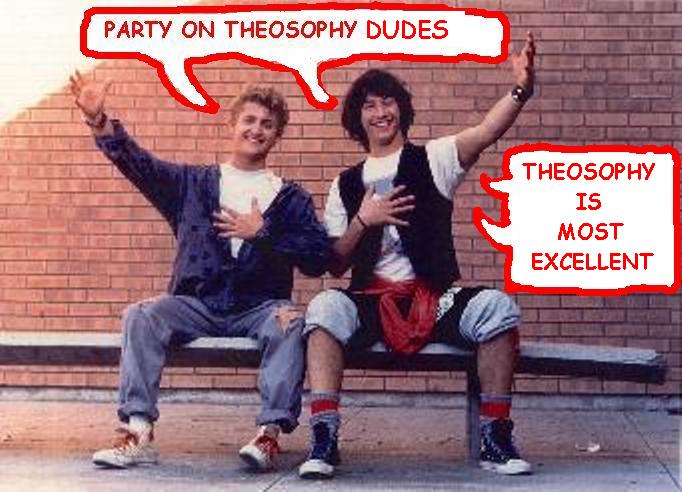 Congratulations on having read this far
THE REAL
THEOSOPHY
STARTS HERE
and about time
A Bit of Background to
Theosophy and the Movement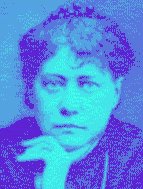 What is Theosophy?
The "On Demand Society" has led us to expect quick concise answers to even quite involved and complex issues. There's no satisfactory quick answer as to what Theosophy is and one comes to appreciate the meaning over a period of time.
If anyone one asks you what Theosophy is, the technically correct answer that it is Divine Wisdom probably won't mean anything to the enquirer. Alternatively, you can say that it is an interpretation of the Eastern Esoteric Tradition for Western Society. This won't mean much either but it does give just a glimpse of the rationale for Theosophy and where it comes from.
If you want to justify your interest as a Theosophist in a particular subject, you can always see if it falls within the remit of the Three Objects of the Society<![if !supportNestedAnchors]><![endif]> outlined below.
Who Started it ?
Basic facts;
Founded New York, November 17th 1875
By
Helena Petrovna Blavatsky – Russian aristocrat
Colonel Henry Steel Olcott – American Civil War Colonel and also a lawyer and journalist. Massive beard
William Quan Judge – Irish lawyer and skillful organizer. Smaller beard but well kept.
There were others involved but they didn't last.
It is important to note that Henry Steel Olcott is an anagram of "Tell the Story Once".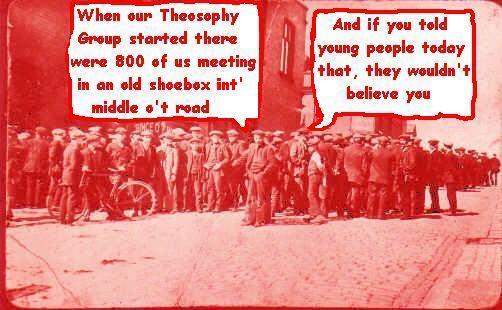 The History of the Theosophical Society
is a subject in itself  - Click here for more info
Ideas and Beliefs
The only actual requirement is to agree with the Three Objects of the Society
The Objects of the Theosophical Society

1. To form a nucleus of the Universal Brotherhood of Humanity, without distinction of race, creed, sex, caste or colour.
<![if !supportLineBreakNewLine]>
<![endif]>
2. To encourage the study of comparative religion, philosophy and science.
<![if !supportLineBreakNewLine]>
<![endif]>
3. To investigate unexplained laws of nature and the powers latent in man.
Beyond this, Theosophy doesn't require you to have any ideas or believe anything but adopting that position would mean social exclusion, so here are a few pointers.
God
God is a bit too big for us ordinary humans to comprehend so Theosophists accept the existence of the immutable principle from which everything emanates and regard it as beyond speculation.
As far a Theosophy is concerned, the man with the white beard is Henry Steel Olcott. Beware of imitations.
Reincarnation
If you don't accept this then Theosophy doesn't actually work.
Theosophy maintains that the process of moving from life to life forms part of both our own personal evolution and that of humanity as a whole.
Theosophy also postulates that humanity moves through mass reincarnations know as Root-Races and that there are seven to go through in each cosmic era. We are the fifth in the current era with two more to go. Don't hold your breath about this one, the time spans are enormous.
If you think you have met someone in a past life then you probably have and you will probably meet them again.
Outliving the Stars
Reincarnation is all very well but modern science says that the Universe is going to come to an end and Theosophy agrees that the Universe, as we know it, will not continue forever. 
What's going to happen us?
Theosophy postulates a system of reincarnation for the Universe and in fact for all Universes. At present we are in what we call the Manvantara which is the physical manifestation of the Universe. At the end of this period the Universe will go into what is called the Pralaya or obscuration. During the Pralaya the Universe will not exist physically but will exist in potential. The Universe will manifest itself again in a new Manvantara and we will be part of that new manifestation in some form.
A loose analogy is a football crowd that will attend the ground for the duration of the match and then disperse. The crowd still exists in potential and will turn up again for the next game. This model assumes that the team attracts a crowd.
Bodies
Having invisible bodies we can't see, other than our physical one, and what these bodies do is basic to Theosophical thinking. In fact we have a body that does the thinking (some of us do anyway)
The set of bodies we get is known in Theosophy as the Constitution of Man and a lot of credibility is gained by having a good working knowledge of this system.
This Constitution consists of seven principles, which Theosophists like to call bodies. Each of these bodies has its own plane of nature on which it operates just as our physical body operates on the physical plane.
These are
Atma – The piece of the divine in everybody or the bit of God in everyone.
Buddhi – Our individual spiritual identity. If we are all part of the Divine then this is your part.
Manas – The Mind principle divided into higher – spiritual ideals and lower – concrete and rational thought. This is the Mental Body without which, you can't think.
Atma, Buddhi and higher Manas form the immortal part of man. The four principles below are dumped at the end of you physical life and you get new ones for next time.
Kama – The desire principle. Theosophists tend to worry about how much this one influences the lower thinking part. You need a bit of desire to keep you going, so control it but don't crush it.
Prana – The life energy principle. You are plugged into this power source and when you die, the plug is pulled.
Linga Sharira – The model body or template for your physical body. Your body changes over a seven year period but you can still recognize yourself in the mirror.
Sthula Sharira – Physical body – we are all familiar with this one. Don't get the idea that because it's the lowest on the scale that it isn't worth looking after. Remember you can't operate on the physical plane without it.
Warning
Using the term Mental Body outside Theosophical circles causes misunderstandings.
Modern Science and the Higher Self
Selection of Annie Besant's Writings
Karma
This is a Law of Cause and Effect operating throughout the Universe at every level of existence. Yes, it's even operating down your street and it doesn't go to sleep.
Theosophy says that Karma is a teaching method and there's no such thing as good or bad Karma but for all practical purposes if you give out £5 worth of misery then you'll get £5 worth of misery back – eventually.
Aphorisms on Karma by William Quan Judge
The Secret Doctrine
A definitive work written by Helena Petrovna Blavatsky, the inventor of modern Theosophy. This is Theosophy's biggest book and if you actually study it then you are in serious danger of becoming a real Theosophist.
There are two things you should know about the Secret Doctrine;
1) It's a big book
2) It's not very easy to read for beginners
Fortunately there's probably enough introductory and intermediate stuff freely available on the internet to keep you going for about five years. After that, The Secret Doctrine will probably be a doddle.
There is also a Heavy Metal album called
The Secret Doctrine recorded by Swedish band Morgana Lefay in 1993. Some of the tracks on this album have strong Theosophical leanings (and some don't).
Ascended Masters
This generally refers to the two incredibly spiritually advanced guys, Moriah and Koot Hoomi who lived in the Himalayas and gave H P Blavatsky her esoteric knowledge so that she could convey it to the world.
Ascended Masters are humans who have reached a much higher state of spiritual consciousness than most of us can comprehend but they remain human.
Beings Above Us & Beings Below Us
As humans, we are on one rung of the evolutionary ladder. It has taken us long cosmic period to move up through the lower rungs of this ladder and in future era we will move up through the higher ones. Again, the time spans are exponential.
We call these rungs of the ladder "Kingdoms of Nature" and this is a familiar term. Theosophy takes the concept a bit further by including levels of existence that fall outside the physically recognized kingdom of Human, Animal, Vegetable and Mineral.
The idea also that the Mineral Kingdom is evolving may also seem strange to some, but Theosophy postulates that there is no dead matter in the Universe and that everything is evolving.
Kingdoms of Nature
There are 10 kingdoms of nature each occupying a rung on the evolutionary ladder. Promotion consists of each Kingdom moving up one rung at once after incredibly long periods of time. However, unlike the local football team, we cannot be relegated.
From the top these are:-
The 3 Dhyani-Chohanic Kingdoms
Dhyani-Chohans (Sanskrit-Tibetan) The Lords of Meditation. There are 3 types with several sub-divisions and they function in a hierarchy. In Christianity they appear as Archangels. They supervise the cosmos and they operate on higher planes than our physical plane.
All religious systems seem to have some concept of the Higher Being.
The Human Kingdom
Some regard us as a section of the Animal Kingdom or even animals burdened by intelligence at Darwin postulated.
Theosophy makes a clear distinction between the Human and Animal kingdoms. Humans have acquired a level of consciousness and self awareness which gives them a level of self determination in both their own personal evolution and that of the Human race as a whole.
Our self consciousness gives us a lot of advantages and a lot of responsibility as well
The Animal Kingdom
Plant or Vegetable Kingdom
The Mineral Kingdom
The Mineral is the lowest of the visible kingdoms on the evolutionary scale.
The 3 Elemental Kingdoms
There are 3 classes of Elemental at different levels of consciousness with innumerable divisions within those classes. They cannot normally be seen. Elementals work behind the scenes and they directly affect what goes on in the world.
Again, many traditions recognize elemental beings in some form.
_________________________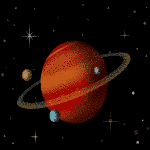 The Universe (well, some of it)
What's the difference between the Universe and a Nissan Micra?
This is an easy one;
Whereas a Nissan Micra is constructed from parts, the Universe is all one thing.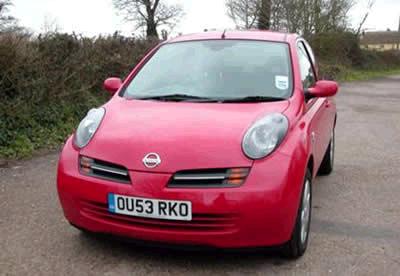 Nissan Micra
One single life force animates the universe, so you don't have to put petrol in, and all beings and forms are derived from this single source.
Death
To a Theosophist Death is not really an end game but the start of a period of transition between the current human life and the next one.
First, at the point of Death, you get a free show in the form of a review of the life just live. This is completely objective and you can't delude yourself. It's also from the point of view of the world and how your life has affected it.
You then move on to Kama Loka – where your earth life baggage and attributes are dissolved and you move up through what is known as the Astral Plane. If you are very materialistic and find it difficult to let go of earth life you can get held up here longer than necessary. Being very negative can get you stuck in the lower realms of the Astral Plane with some rather unsympathetic entities you are better off not meeting.
Once you've got through this stage you get another review
You then move into Devachan, which is a state (not a place) of bliss in which positive aspirations of the previous life are fulfilled. This is the closest thing Theosophy has to Heaven but unfortunately you can't stay there, you have to come back.
You choose the circumstances of your next birth according to your evolutionary learning needs but you only get the best circumstances available.
And that's it you're back but not as Mary Bloggs or Jo Smith.
H P Blavatsky Brief Life Chronology
_____________________
AARDVARK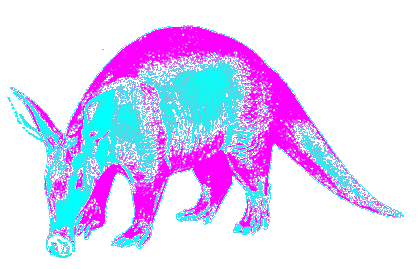 For more info on Theosophy
Try these
Warning
By following these links you may put yourself
in danger of becoming a Theosophist
Dave's Streetwise Theosophy Boards
If you run a Theosophy Group,
Please feel free to use any of the
 material on this Website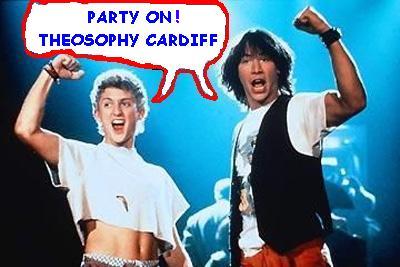 The Cardiff Theosophical Society Website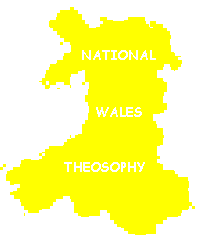 The National Wales Theosophy Website
This is for everybody not just people in Wales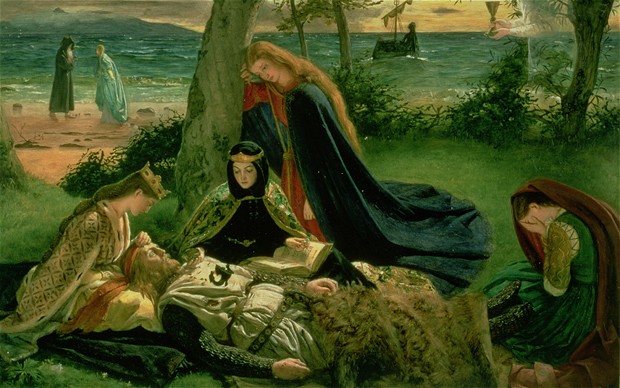 Le Morte d'Arthur
painted in 1860 by James Archer
Manchester City Art Gallery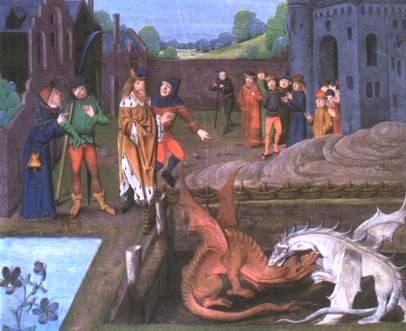 Merlin reveals that Vortigern's tower cannot
stand because its foundations rest on
the den of two struggling dragons
Theosophy Cardiff's Instant Guide to Theosophy
Theosophical Movement in Wales
High Drama & Worldwide Confusion
as Theosophy Cardiff Separates from the
Welsh Regional Association (formed 1993)
One Liners & Quick Explanations
The Most Basic Theosophy Website in the Universe
If you run a Theosophy Group you can use
this as an introductory handout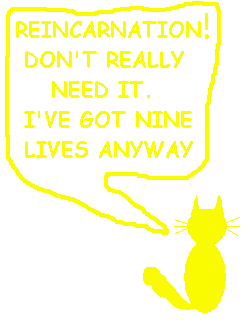 A selection of articles on Reincarnation
Provided in response to the large number
of enquiries we receive at Theosophy Cardiff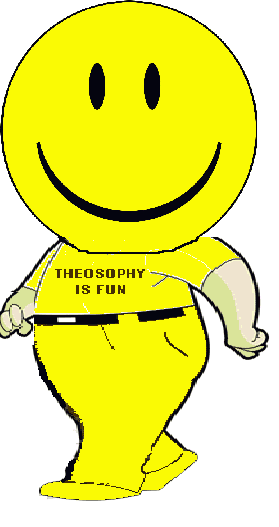 The main criteria for the inclusion of
links on this site is that they have some
relationship (however tenuous) to Theosophy
and are lightweight, amusing or entertaining.
Topics include Quantum Theory and Socks,
Dick Dastardly and Legendary Blues Singers.
Lentil burgers, a thousand press ups before breakfast and
the daily 25 mile run may put it off for a while but death
seems to get most of us in the end. We are pleased to
present for your consideration, a definitive work on the
subject by a Student of Katherine Tingley entitled
General pages about Wales, Welsh History
and The History of Theosophy in Wales
National Wales Centre for Theosophy
Blavatsky Wales Theosophy Group
Theosophy Cardiff Nirvana Pages
The Spiritual Home of Urban Theosophy
The Earth Base for Evolutionary Theosophy
Theosophy Birmingham (England)
The Birmingham Annie Besant Lodge
Tekels Park, Camberley, Surrey, England GU15 -2LF
Article describing Tekels Park and its much
cherished wildlife by Theosophist and long
term Tekels Park Resident Madeleine Leslie Smith
Wales Theosophy Links Summary
All Wales Guide to Theosophy Instant Guide to Theosophy
Theosophy Wales Hornet Theosophy Wales Now
Cardiff Theosophical Archive Elementary Theosophy
Basic Theosophy Theosophy in Cardiff
Theosophy in Wales Hey Look! Theosophy in Cardiff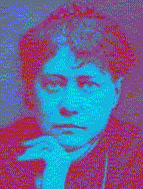 Helena Petrovna Blavatsky 1831 – 1891
The Founder of Modern Theosophy
Index of Articles by
By
H P Blavatsky
Is the Desire to Live Selfish?
Ancient Magic in Modern Science
Precepts Compiled by H P Blavatsky
Obras Por H P Blavatsky
En Espanol
Articles about the Life of H P Blavatsky
Glastonbury Pages
The Theosophy Cardiff Guide to
The Theosophy Cardiff Guide to
The Theosophy Cardiff Guide to
The Terraced Maze of Glastonbury Tor
Glastonbury and Joseph of Arimathea
The Grave of King Arthur & Guinevere
Views of Glastonbury High Street
The Theosophy Cardiff Guide to
Classic Introductory Theosophy Text
A Text Book of Theosophy By C W Leadbeater
What Theosophy Is  From the Absolute to Man
The Formation of a Solar System  The Evolution of Life
The Constitution of Man  After Death  Reincarnation
The Purpose of Life  The Planetary Chains
The Result of Theosophical Study
An Outstanding Introduction to Theosophy
By a student of Katherine Tingley
Elementary Theosophy  Who is the Man?  Body and Soul   
Body, Soul and Spirit  Reincarnation  Karma
Preface to the American Edition    Introduction
Occultism and its Adepts    The Theosophical Society
First Occult Experiences   Teachings of Occult Philosophy
Later Occult Phenomena    Appendix
Preface    Theosophy and the Masters    General Principles
The Earth Chain    Body and Astral Body    Kama – Desire
Manas    Of Reincarnation    Reincarnation Continued
Karma    Kama Loka    Devachan    Cycles
Arguments Supporting Reincarnation
Differentiation Of Species Missing Links
Psychic Laws, Forces, and Phenomena
Psychic Phenomena and Spiritualism
Annotated Edition Published 1885
Preface to the Annotated Edition  Preface to the Original Edition
Esoteric Teachers  The Constitution of Man  The Planetary Chain
The World Periods  Devachan  Kama Loca
The Human Tide-Wave  The Progress of Humanity
Buddha  Nirvana  The Universe  The Doctrine Reviewed
Quick Explanations with Links to More Detailed Info
What is Theosophy ? Theosophy Defined (More Detail)
Three Fundamental Propositions Key Concepts of Theosophy
Cosmogenesis  Anthropogenesis  Root Races
Ascended Masters  After Death States
The Seven Principles of Man  Karma  Reincarnation
Helena Petrovna Blavatsky  Colonel Henry Steel Olcott
The Start of the Theosophical Society
History of the Theosophical Society
Theosophical Society Presidents
History of the Theosophical Society in Wales
The Three Objectives of the Theosophical Society
Explanation of the Theosophical Society Emblem
The Theosophical Order of Service (TOS)
Glossaries of Theosophical Terms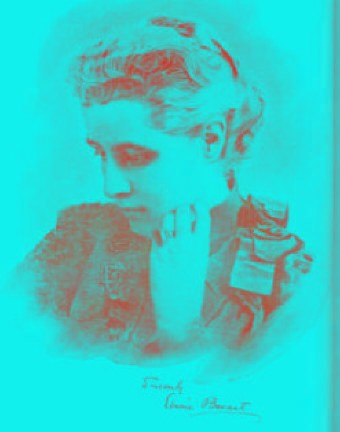 (1847 -1933)
Karma  Fundamental Principles  Laws: Natural and Man-Made  The Law of Laws 
The Eternal Now  Succession  Causation The Laws of Nature  A Lesson of The Law
  Karma Does Not Crush  Apply This Law  Man in The Three Worlds  Understand The Truth
Man and His Surroundings  The Three Fates  The Pair of Triplets  Thought, The Builder
  Practical Meditation  Will and Desire  The Mastery of Desire  Two Other Points
  The Third Thread  Perfect Justice  Our Environment  Our Kith and Kin  Our Nation
The Light for a Good Man  Knowledge of Law  The Opposing Schools
The More Modern View  Self-Examination  Out of the Past
Old Friendships  We Grow By Giving  Collective Karma  Family Karma
National Karma  India's Karma  National Disasters
Try these if you are looking for a
local Theosophy Group or Centre

UK Listing of Theosophical Groups
Worldwide Directory of Theosophical Links
______________________
& of course you don't need to live in Wales
to take advantage of this guide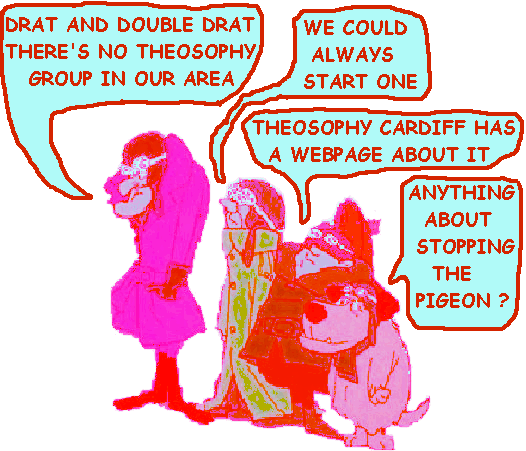 Your Own Theosophy Group Starts Here<![if !supportNestedAnchors]><![endif]>
A Guide to starting your own Theosophy Group
These are suggestions and pointers for forming
your own independent Theosophy Group and
not instructions on how to form a branch of a
larger Theosophical Organisation.
The subject of affiliation to a larger body is
covered but as affiliation may mean compromise
and nobody owns Theosophy anyway, we leave
that decision entirely up to you
EVENTS AT THE NATIONAL THEOSOPHY CENTRE
Please click here for Current Theosophical Events in Cardiff
Camberley, Surrey, England GU15 – 2LF
Tekels Park to be Sold to a Developer
Concerns are raised about the fate of the wildlife as
The Spiritual Retreat, Tekels Park in Camberley,
Surrey, England is to be sold to a developer
Many feel that the sale of a sanctuary for 
wildlife to a developer can only mean disaster
Confusion as the Theoversity moves out of 
Tekels Park to Southampton, Glastonbury & 
Chorley in Lancashire while the leadership claim
that the Theosophical Society will carry on using 
Tekels Park despite its sale to a developer
Theosophy talks of a compassionate attitude
to animals and the sale of the Tekels Park
sanctuary for wildlife to a developer has
You don't need a Diploma in Finance and
even someone with a Diploma in Astral Travel
will know that this is a bad time economically
Future of Tekels Park Badgers in Doubt
Concerns about Tekels Park Wildlife
Theosophical Society in England
Tekels Park is Being Sold to a Developer
Tekels Park & the Loch Ness Monster
A Satirical view of the sale of Tekels Park
in Camberley, Surrey to a developer
The Toff's Guide to the Sale of Tekels Park
What the men in top hats have to say about the
sale of Tekels Park to a developer. It doesn't
require a Diploma in Finance or indeed a
Diploma in Anything to realize that this is a
bad time economically to sell Tekels Park
Party On! Tekels Park Theosophy NOT
St Francis Church at Tekels Park
____________________
Blog Links
http://london-underground.blogspot.com
This site is a directory of weblogs written by
people who live or work in London, organised
by the rather iconic London Tube map (and also
the central London suburban rail network,
docklands light railway and Croydon tramlink)
http://londonbloggers.iamcal.com/
Theosophy Aardvark is represented
Link Exchange Web & Blog Directory of Top Sites Dmegs.com
SEO friendly web directory of top sites & blogs organized by topic
into categories and presented according to relevance of website.